This competition is now closed!
We're delighted to have WaterWipes at babytalk festival and thrilled to have a fantastic prize of 3 MONTHS worth of WaterWipes to give away!
To win simply comment on this post or like and comment on the corresponding post on facebook. Winners will be announced next Wednesday – good luck!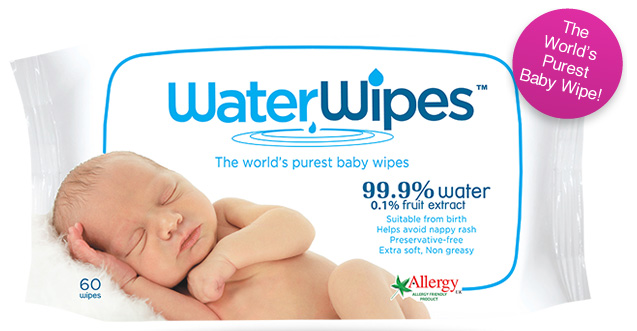 Some tips on baby skincare from the WaterWipes team
When you have a new baby, you may be wondering how to take care of their beautiful fragile skin. Babies have skin that is very thin and sensitive, compared to adult's skin.
Everyone loves the feeling of a baby's smooth skin, but it can be under-estimated the care that goes in to keeping your baby's skin this way. Here are five tips to help take care of your newborn's skin without worrying about injuring the skin.
1. Harmful Products
Take caution when handling products that you are using on your newborn's skin. Be aware of any chemical in baby wipes that may cause irritations to the skin. There are many nasty chemical contained in a number of baby wipes that can cause irritations. Try use a baby wipe that is as natural as possible, with very few chemicals because it is recommended by midwives to use cotton wool and cooled boiled water, the most natural cleaning agent.
2. Bath-time
There is no need to wash your baby every day. Too much washing can dry out a baby's delicate skin leaving it susceptible to rashes or infections. A quick wash down of the baby's neck, arms and diaper area with a washcloth is sufficient enough most days – unless your baby is running through muddy puddles every day. When you bath your baby make sure you choose a wash that is fragrance –free and only use small amounts. Stay clear of products that contain 'Sodium Lauryl Sulfate' in the ingredients due to the harshness of this detergent for a newborn's skin. Once bathing time is over, dry your newborn and gently use a fragrance free lotion to moisturise the skin.
3. Burns easily
A newborn's skin is not fully developed when born, especially the melanin which helps to absorb the sun rays. Therefore this means that a baby's skin will burn quicker than older children or adults. Keep your newborn out of direct sunlight as much as possible. If out in sunlight keep the baby's head covered with a hat and arms and legs covered if possible. Babies have more skin surface than adults, so they will absorb a higher degree of chemicals. This can increase reactions and irritations of the skin. Where possible avoid chemical sunscreens so your newborn's skin cannot absorb any of these nasty chemicals contained it them.
4. Watch out for diaper rash
The chances are at some stage of your baby's life you will encounter diaper rashes. The materials that diapers are make from that prevent leaking also prevent air circulating, which creates a damp environment prone to rash development. The cleaner and dryer the skin is then there is a lower chance of irritations occurring. Clean your baby's skin with cotton wool and cooled boiled water or a baby wipe during every change. To avoid diaper rash occurring allow the skin to completely dry before applying power to minimise the rash.
5. Be careful with choice of clothing
When choosing clothing for your newborn it is important to be careful with your selection. Many materials can be harsh on the sensitive skin of a newborn and can cause irritations. Opt for clothing that is made from a soft material, such as cotton, that will be gentle towards the skin. When washing your baby's clothing, be careful that you do not use harsh laundry detergents as these may irritate the skin when clothes are worn after a wash.
In general it is best to use the purest, most natural products on a newbons skin as these will be less likely to cause any reactions.
The purest baby wipe is manufactured by Irish Breeze, a leading producer of cotton products and baby care. WaterWipes is the first chemical-free baby wipe brought to the market. Free from chemicals and preservatives, WaterWipes are 99.9% water with 0.1% grapefruit seed extract, making them safe for newborns and infants. They are the only baby wipes approved by Allergy UK. This states that the have been tested to prove it is efficient on reducing or removing allergens.
For more information on WaterWipes visit www.waterwipes.com.