Concerned about stretch marks? Babytalk exhibitor Lisa Heeney has some tips and a Beautiful Belly Bar to give away! Just comment below or on the corresponding facebook post to be in with a chance to win!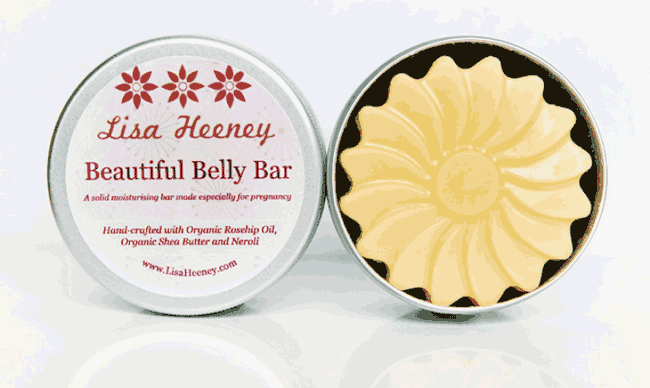 Pregnancy is a time of change, both physically and mentally. Some women breeze through the 42 weeks whilst others have a more challenging time with discomforts such as morning sickness, sleeplessness, heart-burn or excessive swelling (Honestly, it's all forgotten in the end!). A common result of a rapidly changing body size and shape is stretch marks which, unfortunately, can be accompanied by tight, itchy, inflamed skin as it stretches to embrace your growing baby bump.
And s-t-r-e-t-c-h…
Stretch marks can happen when the rate of growth of your skin has difficulty in keeping up with the rate of growth of your body underneath. Changes in skin physiology mean that structural fibres in the middle layer of your skin are stretched and often broken, causing the appearance of darker pigmented lines around your belly, breasts and thighs.
Not everyone gets stretch marks, but there seems to be some factors that might make getting stretch marks more likely: stress, dehydration, rapid weight gain, and unfortunately, genetics (not much we can do about that one girls!).
Reduce your stress
It is not realistic to say that if you do x, y or z you will definitely not get stretch marks, however, staying hydrated, incorporating healthy oils like olive oil and coconut oil into your diet, and keeping your skin well nourished to improve its elasticity will help make your growing body more comfortable. From working regularly with pregnant women, in my opinion stress is also a big factor in how a woman's body reacts to her pregnancy, so staying relaxed, both mentally and physically and allowing your body to work properly, is very important too. Getting reflexology, going for a massage, doing yoga or going for some acupuncture are all wonderful ways of helping to stay relaxed, and physically and emotionally balanced when pregnant.
Looking after your bump
Another important thing you can do for yourself is to care for your skin and keep it properly nourished and hydrated as your pregnancy progresses. Your body diverts many of the nutrients you take in via your food to your baby, so it's important to give your skin some extra love in the form of proper moisturisation and TLC. Whilst no cream, lotion or potion can or should say that it will 100% prevent stretch marks, improved elasticity of the skin may diminish their appearance somewhat and improve how your skin feels. Properly moisturised skin will not feel as tight or as uncomfortable, and certain beneficial ingredients may also help with inflammation and itchiness.
Taking the time to look after your body and pay it some attention is very rewarding in itself. Spending a few minutes in the morning, after your shower, or before you head to bed in the evening time, massaging your bump will help you relax. It's nice to use some gentle sweeping strokes moving one hand up from the bottom of your bump to the top, whilst bringing your other hand down from the top to the bottom, in a relaxed circle shape. It feels lovely to use your knuckles to massage your legs and thighs upwards towards your bum as it helps to relieve daily tension build-up and improve circulation. Improving blood flow to your womb and pelvis is important through massage and gentle exercise because it allows a good oxygen supply to baby.
What goes on, goes in
Just as it's important to be prudent about what you put into your body when you're pregnant, it's equally important to pay attention to what you're putting ON your pregnant body, as a percentage of what you put on your skin will pass to your blood stream and can cross the placental barrier. It's wise to avoid harsh chemicals with artificial fragrances and colours, or that are petroleum based as these have been linked amongst other things, to causing hormonal imbalances, both for you and your developing baby. Skin can also be in a state of heightened sensitivity when you're pregnant, so is much more likely to react badly to irritants and synthetic compounds.
Moisturising, protective, healing
In 2002 I learned about certain ingredients in cosmetics that could be detrimental to our health and was truly horrified. When I started making my own body products in 2012, I was determined to use only natural ingredients, that were organic where possible. Some of the ingredients that I incorporate into my products are:
Beeswax (locally sourced from Co. Louth), Cocoa Butter, Shea Butter, Coconut Oil, Rosehip Oil, Calendula Oil and beautiful essential oils – some of my favourites include Neroli, Frankincense, and Chamomile.
Natural Benefits
Beeswax forms a natural protective barrier when used in skincare products, has anti-inflammatory properties, softens the skin and helps to heal wounds. Shea and Cocoa butter have long been used to nourish, soften and protect the skin. They work with your skin and moisturise from the outer layers down, whilst still allowing your skin to breathe and do its job of getting rid of your body's toxins. Rosehip and Calendula oils are well renowned for their skin rejuvenating properties and encourage healing of scars and wounds, whilst coconut oil is wonderful at moisturising, and balancing the skin's own oils. Being an aromatherapist, I choose essential oils that are therapeutic as well as being beautifully fragrant, and specific to pregnancy requirements. (Please note that certain essential oils are not recommended as being safe during pregnancy. Please check with a trained aromatherapist if you are unsure as to which oils to use.)
I have created a pregnancy-specific product called the Beautiful Belly Bar which is a solid moisturising bar made using local beeswax, organic shea butter, organic rosehip oil and calendula oil. It is naturally nourishing and protective for your pregnancy body and the beautiful and luxurious essential oil of neroli makes it extra special. Simply rub it on, and rub it in.
Giveaway!
And one of my Beautiful Belly Bars is up for grabs! To be in with a chance of winning, just comment on this post or on the babytalk facebook page and the winner will be notified accordingly.
Bio
Since 2001, Lisa Heeney started working with pregnant women as a reflexologist and aromatherapist, but is now focussing on developing her range of hand-crafted natural body products. Lisa is an advocate of natural pregnancy and birth and wants women to enjoy their pregnancies and have positive birth experiences. She lives in Drogheda, Co. Louth, is married to John and is mum to three beautiful children, Elizabeth, Ruairi and Jacob.

You can read more about her hand-made natural products at www.lisaheeney.com