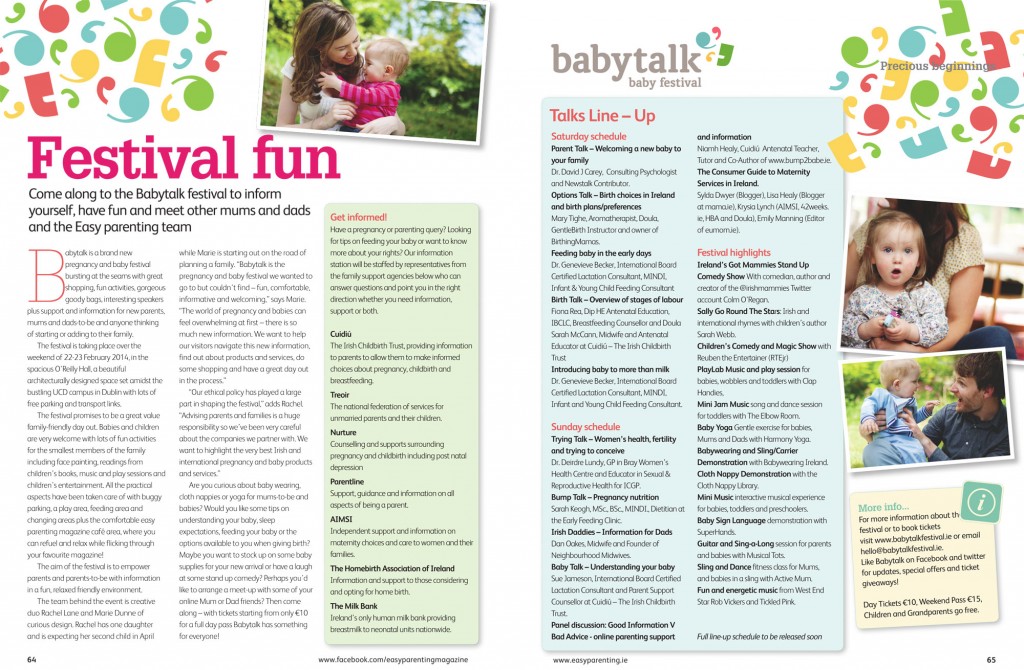 Here at babytalk HQ we're thrilled to be featured in a double page spread in the new edition of Easy Parenting Magazine! Why not pick up a copy now or click on the image above to read the full article.
We've really enjoyed working with the Easy Parenting Team and are looking forward to visiting them in the gorgeous Easy Parenting Cafe over the festival. They will have exciting hourly competitions so pop over and say hello to them!
The Easy Parenting team will also be signing Mums and Dads up for their Ultimate Parenting Panel over the Babytalk Festival weekend.

The panel will be made up of real life Mums and Dads just like you. Once you sign up – which is very easy to do, you will be asked to take part in focus groups, surveys and the best part – product testing! Sound like fun?! Well to make it even more appealing, they are also offering to pay for your opinions!
To find out more or to sign up to join the panel, just pop an email over to editor@easyparenting.ie or text "Ultimate Parenting Panel" with your name to 087 1376574 (normal charges apply), or pop over for a chat when you visit the festival.